The School of Computer Science and Technology was founded in 1998. It now has four undergraduate majors: Computer Science and Technology, Network Engineering, Software Engineering, and Data Science and Big Data Technology, all of which are ranked level B in Soft Science's Best Chinese Majors Ranking, and master's degree programs in Computer Application Technology (Academic) and Electronic Information (Computer Technology) (Professional). The major of Computer Science and Technology is ranked as First-class Major in Shandong Province and Provincial Distinguishing Major. It is also selected in "Excellent Engineer Education and Training Program" by both the Ministry of Education and Shandong Province.
The School has established the discipline construction direction of "Data-driven Intelligence for Smart Cities", and continues to strengthen the cross-fertilization with traditional disciplines such as urban and rural planning, civil engineering and architecture, and has formed a distinctive feature in the field of urban computing. The School is a key member of the innovation platforms such as Shandong Smart City Collaborative Innovation Center, Shandong Smart Building Technology Key Laboratory and Shandong Green Building Collaborative Innovation Center. It has established in-depth cooperation with the National Supercomputing Center of Jinan, Inspur Group and Shandong Guoxin Yihe Group to carry out the continuous construction work of disciplinary platforms. In the past five years, the School has completed more than 80 government-sponsored and enterprise-sponsored research projects, won more than 30 awards at the department and bureau levels, and published more than 300 academic papers and more than 20 textbooks and monographs.
The School insists on the goal of "cultivating high-quality applied talents with a high sense of social responsibility, strong ability of independent learning and innovation, and adapting to the international competitive environment", and has built a talent training system to meet the needs of social development, and has become an important base for training applied talents in information technology in Shandong Province. Computer Science and Technology is a special brand specialty in Shandong Province. The quality of talent training of the School has been widely praised by employers, and the employment competitiveness of graduates has been continuously improved, and the employment rate has been ranked in the forefront of the University, and the School has been awarded as an advanced group of employment work by the University for several years. A large number of graduates have entered Baidu, Alibaba, Wave Group, Hikvision, Shanda, Zhejiang Dahua, Hang Seng Electronics, Goer and other well-known enterprises at home and abroad, and many students have been admitted to Peking University, Chinese Academy of Sciences, Zhejiang University, Beihang University, Shandong University, Ocean University of China, Beijing University of Posts and Telecommunications and other universities and research institutes for further study.
Our students have achieved many awards in a large range of college students competitions, such as the "Challenge Cup" National College Students Academic Science Competition, the Youth Entrepreneurship Plan Competition, the "China Software Cup" software design competition, the national mathematical modeling competition for college students, the national English competition for college students, the national electronic design competition for college students, the Chinese college students' computer design competition, the Blue Bridge Cup national software and information technology professionals competition, the software design competition for college students in Shandong Province, and so on. In 2020, Quanjiang Chen, graduated in 2017, was awarded the "CCB Cup" for his project "Public Intelligent Environmental Protection Platform". In 2021, Wenkang Ma and Guangyuan Sui were nominated for the Grand Prize in the Mathematical Modeling Competition for College Students in the United States.
In 2020, Quanjiang Chen, as one of the 10 college students' entrepreneurs in Shandong province, was awarded the "Best 10 Entrepreneurial Stars of Shandong College Students", and Zhiyun Yu, Secretary of the Youth League Committee and Student Section Chief of the School, was awarded the fifth "Excellent Advisor for Best 10 Entrepreneurial Stars of Shandong College Students". In 2021, Shanli Shi, a Software Engineering major student enrolled in 2017, was awarded the title of "National Outstanding Youth League Member".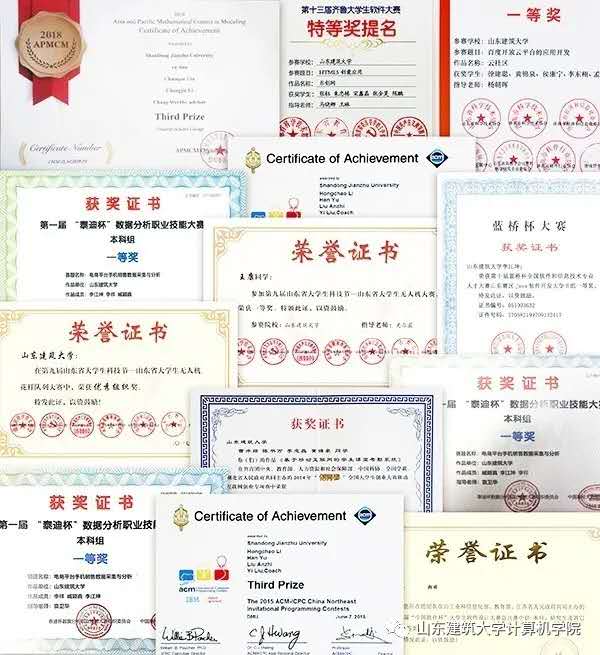 There are 99 faculty members, and 72 of them are academic staffs, including 14 professors, 33 associate professors, and 26 master's program supervisors. 58% academic staffs hold doctoral degrees, and 32% academic staffs have overseas study or working experience. In the past 3 years, the School has recruited 5 high-level talents as special professors and 7 high-level doctors. The team of "Machine Learning and Smart City Data Mining" was supported by the Young Creative Talents Induction Program of Shandong Colleges and Universities. Prof. Xiushan Nie was awarded the title of Taishan Scholar Young Expert Talent in 2021. In 2019, the University introduced Prof. Yilong Yin, Professor of Shandong University and a holder of the Outstanding Talents Support Program of the Ministry of Education, as the special dean of the School. Since his joining, great progress has been made in discipline construction and talent team building.
After direction condensation and team building, a discipline direction layout with artificial intelligence as the core has been formed, including machine learning and data mining (special direction), multimedia processing and analysis, software theory and intelligent logic, and artificial intelligence technology and application.